Support for Domestic Violence / Violence Against Women
National Hotlines
National Domestic Violence Hotline
Staffed 24 hours a day by trained counselors who can provide crisis assistance and information about shelters, legal advocacy, health care centers, and counseling.
1-800-799-SAFE (7233)
1-800-787-3224 (TDD)
Rape, Abuse & Incest National Network
This nationwide partnership of more than 1,100 local rape crisis centers provides victims of sexual assault with free, confidential services, 24 hours per day, 7 days per week.  These hotlines have helped over 1.3 million people since RAINN's founding in 1994.
1-800-656-HOPE
National Organizations
Futures Without Violence (formerly: Family Violence Prevention Fund, FVPF)
E-Mail : info@futureswithoutviolence.org
Website : http://www.futureswithoutviolence.org
100 Montgomery Street, The Presidio, San Francisco, CA 94129
Phone: (415) 678-5500 / TTY: (866) 678-8901
Washington, DC Office: 1320 19th St. NW, Suite 401, Washington, D.C. 20036
Phone: (202) 595-7382
Boston Office: 50 Milk Street, 16th Floor, Boston, MA 02109
Phone: (617) 702-2004
National Coalition Against Domestic Violence
E-Mail : mainoffice@ncadv.org
Webiste : http://www.ncadv.org/
One Broadway, Suite B210, Denver, CO 80203
Phone: (303) 839-1852
Public Policy Office: 1633 Q Street NW, Suite 210, Washington, DC 20009
Phone: (202) 745-1211
E-mail: publicpolicy@ncadv.org
National Network to End Domestic Violence
Website : http://nnedv.org/
1400 16th St NW, Suite 330, Washington, DC 20036
Phone: (202) 543-5566
Women's Law : Legal Resource Network
Website : http://www.womenslaw.org/
Safe Horizon
Website : http://www.safehorizon.org
E-Mail : help@safehorizons.org
2 Lafayette Street, 3rd Floor, New York, NY 10007
24-hour hotline: 800-621-HOPE (4673)
Crime Victims HOTLINE: 800-621-4673
Rape and Sexual Assult & Incest HOTLINE: 212-227-3000
TYY (for all HOTLINES) 866-604-5350
Sanctuary For Families
Website : www.sanctuaryforfamilies.org
E-Mail : info@sffny.org
PO Box 1406, Wall Street Station, New York, NY 10268
Phone: (212) 349–6009
WEAVE - Women Empowered Against Violence
Website : www.weaveinc.org
Support Line : (916) 920-2952
WEAVE Midtown Counseling Center
1900 K Street, Sacramento, CA 95811
Phone: (916) 448-2321
Hazing Prevention Resources
Anti-Hazing Hotline
Phone: 1-888-NOT-HAZE
(888) 668-4293
HazingPrevention.org
Website : http://hazingprevention.org/
HazingPrevention.Org™ P.O. Box 1189, LaGrange, GA 30241
Phone: (706) 298-0292
Stop Hazing
Website : http://www.stophazing.org/
E-Mail : info@stophazing.org
Ray of Hope Walk - Past Beneficiaries
OPBSI created The Ray of Hope Walk to End Violence Against Women (ROHW) with the aim to raise awareness of a global epidemic affecting the lives of women, children, and families. READ MORE ABOUT ROHW...
Every year we partner with local and national agencies working towards ending gender-based violence. We select an organization that provides services and is actively engaged in eliminating violence against women as our beneficiary. Our past beneficiaries serve as great resources to the community.
MADRE
MADRE is an international women's human rights organization that works in partnership with community-based women's organizations worldwide to address issues of health and reproductive rights, economic development, education and other human rights. MADRE works towards a world in which all people enjoy the fullest range of individual and collective human rights; in which resources are shared equitably and sustainably; in which women participate effectively in all aspects of society; and in which people have a meaningful say in policies that affect their lives. MADRE's vision is enacted with an understanding of the inter-relationships between the various issues we address and by a commitment to working in partnership with women at the local, regional and international levels who share our goals.
Website: www.madre.org
Address: 121 West 27th Street, #301, New York, NY 10001
E-Mail: madre@madre.org
Phone: (212) 627-0444
National Organization for Women (NOW)
The National Organization of Women, NOW, is committed to raising awareness and making change about a range of issues impacting women's lives right now. NOW is the largest organization of feminist activists in the United States. Some of their campaigns include Love Your Body, Reproductive Freedom, Mothers Matter, Youth Feminism, and Political Advocacy for Women.
Website: www.NOW.org
Address: National Organization for Women, 1100 H Street NW, Suite 300, Washington, DC 20005
Phone: (202) 628-8669 (628-8NOW)
V-Day
V-Day is a global activist organization that strives to end violence against women and girls. V-Day promotes creative events to increase awareness, raise money and generate broader attention for the fight to stop violence against women and girls, inclusive of rape, battery, incest, female genital mutilation and sex slavery. In conjunction with the 15th anniversary, V-Day launched its most ambitious campaign to date - ONE BILLION RISING. One Billion Rising is the biggest mass action to end violence against women in human history. The campaign, launched on Valentine's Day 2012, began as a call to action based on the staggering statistic that 1 in 3 women on the planet will be beaten or raped during her lifetime.
One Billion Rising Campaign: www.onebillionrising.org
V-Day Website: www.vday.org
INCITE!
INCITE! is a nation-wide network of radical feminists of color working to end violence against women, gender non-conforming, and trans people of color, and our communities. They support each other through direct action, critical dialogue, and grassroots organizing. INCITE! identifies "violence against women of color" as a combination of "violence directed at communities," such as police violence, war, and colonialism, and "violence within communities," such as sexual and domestic violence.
Website: www.incite-national.org
E-Mail: incite.natl@gmail.com
Address: INCITE! 2416 W. Victory Blvd, Burbank, CA 91506
PAVE
PAVE (Promoting Awareness, Victim Empowerment) works to create education and action surrounding the issues of sexual violence, while being inclusive to all individuals and their experience. PAVE a non-profit with over 35 chapters and affiliates; it is committed to ending sexual violence through education and empowerment. PAVE is not a support group. It is a grassroots organization that raises awareness and takes action on issues of sexual and domestic violence.
Website: http://pavingtheway.net/
E-Mail: info@pavingtheway.net
Address: 233 S Wacker Dr – 84th Floor, Chicago, IL 60606
Phone: (877) 399-1346
Spectrum
SPECTRUM is a committee overseen by the Board of Trustees of Omega Phi Beta Sorority, Incorporated, committed to the protection of its members and the development of inclusive legislation and practices.
Through this initiative, we hope to accomplish the following:
To increase the awareness of LGBTQIA+ issues with regards to Omega Phi Beta's national philanthropy of "Raising Awareness of Violence against Women".
To ensure that individuals who self identity as women and vary in sexuality, gender expression and/or sexual assignment, have a safe space within our organization.
To serve as a resource to Sisters and the greater community through the utilization and execution of educational materials, programming and national initiatives.
To broaden Omega Phi Beta's commitment to diversity and include those who identify as part of the LGBTQIA+ community.
Authorized & Licensed Vendors
Omega Phi Beta is the exclusive owner of several trademark(s) and copyright(s) relating to our organization. To protect these, OPBSI works with select vendors who are Authorized and Licensed by the organization to produce items utilizing our name, likeness, symbols, emblems, images, and other imagery associated with OPBSI.
We are proud to partner with the following vendors offering high quality, signature products aligned with our branding standards!
---
E&V Embroidery
E&V Embroidery was established on April 2006, with the vision of delivering high-quality, affordable, custom Greek paraphernalia as well as non-Greek apparel. Check out their products on Facebook and Instagram - @envemb!
AddicteDesigns
Twitter - @addictedesigns
Facebook - Addictedesigns
Instagram - @addictedesigns
Email - orders@addictedesigns.com
Website - Ineedastole.com
xggf_designs
Created by Beta Kappa Chapter alumna, Gabriela Garcia, and specializing in custom apparel as well as graduation sashes and other paraphernalia.
Instagram: @xggf_designs
Orders: gabyxgarcia@gmail.com
The Finer by Fina, Inc.
The Finer by Fina, Inc. specializes in handcrafting crests and bringing them to life from a 2D image to a multidimensional work of art. These one-of-a-kind custom creations were handed out to each new Chapter at the 2015 National Convention! Perfect to show your Greek pride at home, in the office, or at school!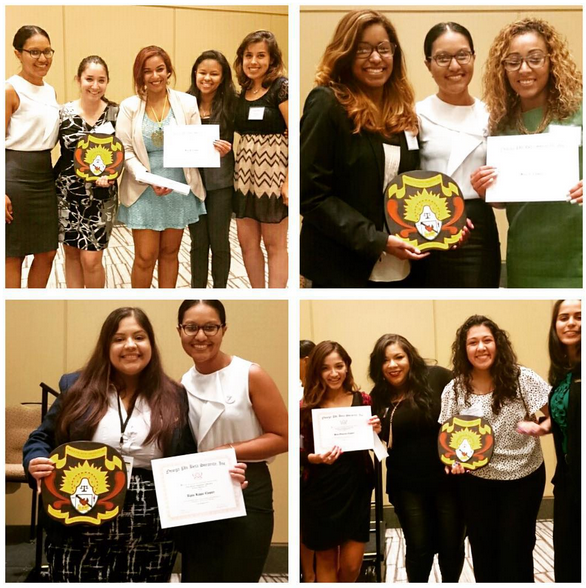 Contact Fina with questions or requests for orders at info@thefinerbyfina.com.
Greek Designz
Providing modern apparel including OPBSI's custom Professional Crest Blazer and Sorority Crest Graduation Sashes.
Have an idea for a design? Greek Designz will help with your fundraiser for your chapter/collective and bring your idea to life! Visit their site at www.greekdesignz.com for more products!

The following persons are no longer affiliated with Omega Phi Beta Sorority, Incorporated and their membership with the organization has been voluntarily or involuntarily terminated.
| | | | |
| --- | --- | --- | --- |
| Chapter | Location | Name | Date Membership Terminated |